Simple WordPress themes are non fancy WordPress themes that just serves the job of providing information. The clean and simple layout makes it a great theme for users seeking for a professional image. It is also great for small business organizations. The below is a collection of some of the best premium simple WordPress themes.
1. Modest WordPress Theme
Simple and modest theme with a nice slideshow effect. Can be used for personal or company website.

2. Daily Notes WordPress Theme
Interesting way of breaking away from the convention wordpress themes. This design makes uses you notes sticker to display your post. Simple and creative wordpress theme.

3. Simple Press WordPress Theme
Another clean and neat theme that you can use for your portfolio or company. Comes with a slideshow feature.

4. PureType WordPress Theme
A great theme for a simple personal blog. Comes with automated thumbnail resizing and ad management.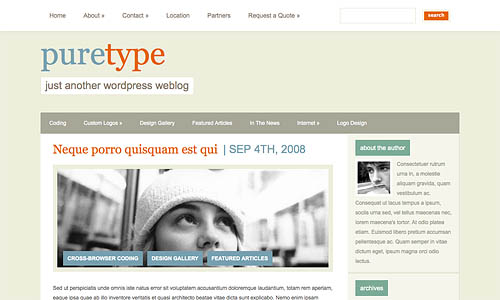 5. The Muse WordPress Theme
A content-based premium theme for WordPress but is customizable and manageable. Post formats include video, image, audio and quote. Display options range from the traditional one-column and two-column to dynamic layout.

6. Pure WordPress Theme
The WordPress theme of the minimalist. It is super clean and dominantly white. Content-based yet very sophisticated and elegant. Not to mention a perfect range of typography to boot.

7. Simpleton WordPress Theme
A minimalist WordPress theme that is totally clean and lightweight. It is built as a standalone theme with flexibility at heart but can work in diverse framework for more niches. It is mobile-friendly and responsive too.

8. SoftPress WordPress Theme
A simple yet refined theme for WordPress, SoftPress has a spectrum of features to offer. To start with, it has a wide column layout with a pretty slider so you can display contents with finesse. In addition, it is responsive, SEO-based, must-have option panel and customizable design.

9. AskIt WordPress Theme
An advanced theme created effectively to transform a website into highly function Q&A blog. The main gist of the site is to allow visitors to post questions and have them answered by members of the site. You can post any of your answers to the questions which are posted on the homepage and voted upon thereafter until the right answer is chosen by the one who posted the question.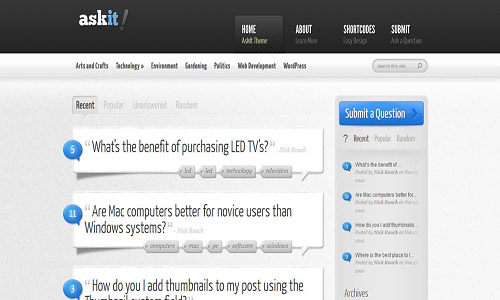 10. ArtSee WordPress Theme
ArtSee is artsy. It is perfect for those who are looking for simple and sophisticated theme. The perfect template for those looking portfolio or blogs seeking designs to accentuate imagery and functionality. The theme comes with customizable options with a simple drag-and-drop technique.

11. Vimes WordPress Theme
A simple premium WordPress theme, specifically-designed for photographers, agencies and artists but also suits other blog of a different niche. Among other things, it features: ZOOM framework, featured slider, portfolio template, responsive design and custom posts and widgets.

12. Elegance WordPress Theme
"Less is more" with Elegance, a simple portfolio-based WordPress theme with a beautiful layout and great typography. It has custom menu and widgets and WPZOOM options panel.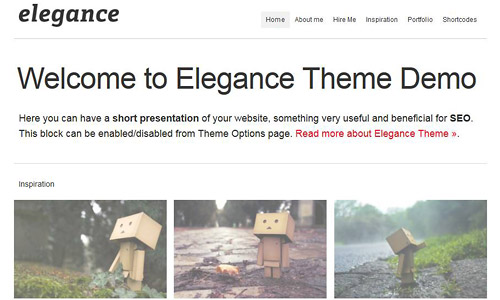 13. Carter WordPress Theme
Carter is a unique builder theme for WordPress that utilizes jQuery Masonry so you can make that perfect blog post layout of your. With this, you can exchange products through its built-in styles plus customize modules with a one-of-a-kind design.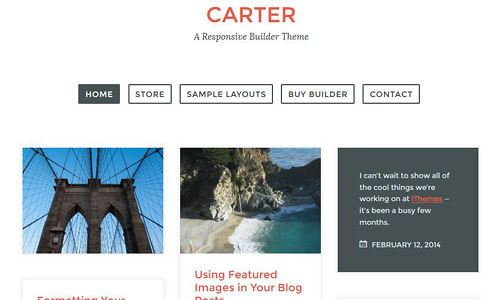 14. Yukon WordPress Theme
This Simple WordPress theme features a stylish yet minimalist; bold and powerful social networking link. It is also BuddyPress compatible and has a unique Builder engine layout.

15. Daily WordPress Theme
The Daily WordPress theme is specially for bloggers, online marketers, community blogs or news portals, etc. If you want to have exactly that kind of niche, this is the right premium theme for you! It is responsive and mobile-friendly.


Back to list of all the best WordPress themes.