Customizable WordPress themes help you to you have more control over your layout and design without fiddling with PHP  code. It is best for users who loves to customize their own site. There are some companies who have developed their own WordPress framework to make this easy. Some wp premium themes even give you control over the colors and fonts so you basically can change the style without dealing with CSS code. So let's take a look at some of the best customizable WordPress themes.
1. WP-Glide WordPress Theme
A professional yet customizable WordPress theme suitable for any business, magazine or blog. Comes with logo integration, multiple home page layouts, optional featured content, optional post thumbnails and ad integration. Powerful and easily adjusted according to your needs.

2. WP-Chatter WordPress Theme
A customizable magazine WordPress theme. WP-Chatter is WordPress 3.1+ compatible that supports menu management. Choose from 2 or 3 columns layout with widgetized sidebar. 9 color styles to choose from and comes with built-in post thumbnails. A powerful WordPress theme indeed.

3. Superb WordPress Theme
A customizable wordpress theme with unlimited color options. It comes with localization support, billboard options, custom header and footer logo, lightbox integration, ads management, Flickr and twitter integration, per page sidebar options, built-in portfolio layout options and a lot more features!

4. Utopia WordPress Theme
This theme comes with 4 different homage layouts which you can choose from and 6 page layouts for pages and gallery. Furthermore, you can pick from any of the 5 color style variations and choose any of the 9 cool transition effects for homepage slider.

5. Awake WordPress Theme
A powerful WordPress theme with with easy to use admin to configure every major design. You can customize homepage with 2 transitional effects and 5 different layouts. It also comes with breadcrumbs navigation, social bookmarking, custom sidebar and 70+ shortcakes.

6. DynamiX WordPress Theme
Very cool wordpress theme that has lots of customization options for gallery. It comes with dual skin selection with 20 outer and 2 inner skin colors available. You can have multiple gallery on a page and adjust the gallery properties and effects.

7. inFocus WordPress Theme
A very customizable gallery theme for WordPress. It comes with 10 color variations and a customizable jQuery homepage slideshow with 3 unique layouts. Very good for new users as you can easily edit all the options available.

8. Breeze WordPress Theme
A theme designed for corporate portfolio. You can choose from 2 home page templates and 3 home page sliders. 3 portfolio templates are available and it is integrated with 6 different languages to localize your theme.

9. Unite WordPress Theme
Very nice sleek layout which can be used for any site. The few extra skins look cool and unite. Lots of layout options and shortcakes provided.

10. Opulence WordPress Theme
Opulence is a fashionable premium theme for WordPress. It has a range of features that is very useful to every user. With is single-color design, it is structured with images that brings out elegance as well as luxury. It is equipped with an ecommerce plugin for accessible and easy online shopping. It is responsive too. What is more, customization is brought to the next level as you can transform slider, images and menu on your own design.

11. Piazza WordPress Theme
This theme allows you to create your very own showroom of branded merchandise. It is very customizable with an array of features that helps you make a product-centric website with a wide slider that views every angle of the products on hand. Piazza has a range of templates for every clientelle out there plus a shortcode-supported posts and pages for an impressive-looking homepage. It is also compatible with WP Ecommerce, Jigoshop and WooCommerce plugins.

12. Foxy WordPress Theme
Anything that you want your website to be, you can do it with Foxy. With this, you can have a sleek and all-in-one business solution; fully integrated with ecommerce plugins, responsive layout design, and other features that makes up a perfect business online. You can have fun while you customize the striking elements of the theme as it is structured for ease and convenience.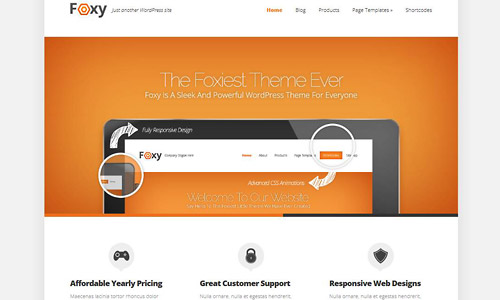 13. Nova WordPress Theme
The theme is dominated by simple yet sharp designs that completes your visitors' experience. But the strength of this premium theme for WordPress lies on the homepage design. Here, you are given the opportunity to unleash your creativity in designing the slider, contents, etc.

14. Micro WordPress Theme
Customizability and functionality are two of the things that fuels this WordPress theme. At a glance, it is simple but once you have seen the pages a well-structured layout beholds you. With this, you can have your own color scheme and set your own admin scheme. You can even rearrange the homepage without even worrying about codes.There is even a shortcode generator so you will not hassle on memorizing a list of shortcode references.

15. Pixeloph WordPress Theme
With this theme, you can surely standout from your competition. This premium theme for WordPress offers a unique layout which is fitted to a lot of companies and agencies.


Back to list of all the best WordPress themes.