Featuring the best WordPress ecommerce themes for 2013. Even though WordPress started out as a blog engine, now it is possible to create an ecommerce site using premium WordPress ecommerce themes. Now it is possible to create an online shop easily with WordPress. Most ecommerce themes comes with shopping carts, billing features and easy updating of items. Be sure to check out all the features of each theme before you make your purchase!

1. Store WordPress Theme
Quickly transform your website into a fully functioning e-commerce website in WordPress. This theme has great usability so that user has a good buying experience. Comes with shopping cart and catalog mode. Can be used for selling food, gadgets, tools, clothes and jewelry. Be sure to check out the whole list of features.

2. WP Store WordPress Theme
WP Store is a one stop e-commerce solution for business owners. It quickly transform your site to a fully working e-commerce site with backend administration. Great store to sell electrical items, ebooks or gadgets.

3. e-Commerce WordPress Theme
A very complete e-commerce WordPress theme that comes with lots of features. Easily manage your order, shipping, payments and tax. Comes with shopping cart and checkout features. Buyers can also choose color and size for products. A perfect e-commerce for selling clothes, shoes and other accessories online.

4. eStore WordPress Theme
eStore WordPress theme offers you an easy solution to sell products online. It is easy to configure and compatible with all major browser. It doesn't have its own ecommerce engine however it is integrated with eShop and Simple PayPal Shopping Cart plugins to bring you an ecommerce solution.

5. Ikonik WordPress Theme (FREE)
Iknoik WordPress theme is a free theme designed to sell icons. It can be used for a personal blog to sell simple items. But it lacks the power of a full ecommerce site.

6. Emporium WordPress Theme
Another great WordPress e-commerce theme for selling shirts and clothings online. Comes with a large slideshow on frontpage to showcase the latest products and promotions. Visit the site to see all the features available.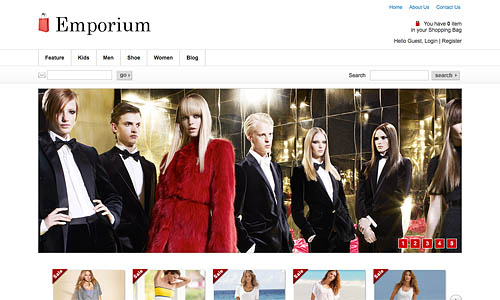 7. Mazine WP E-Commerce WordPress Theme
Very beautiful wordpress theme to use for selling high-end furnitures such as tables, chairs, sofas, wardrobes, bed. It has all the basic shopping cart features and payment. On top of that, it comes with a sleek picture gallery which you can put showrooms photos or furniture concept. Newsletter feature is also available to send offers and sales to your customers!

8. Viroshop WordPress Theme
Very simple yet professional e-commerce theme. The system comes with coupon module to let you offer discounts for your marketing campaign. Customers can create wishlist and checkout products using PayPal or Gogle Checkout.

9. Atelier WordPress Theme
Besides being WordPress 4.2 Compatible, Atelier offers an all-new demos: Arad and Bryant. It also has extra action hooked to the header, theme options show reviews and choose a page builder plus with the latest Atelier v1.3 now has lots of fixes and improvements.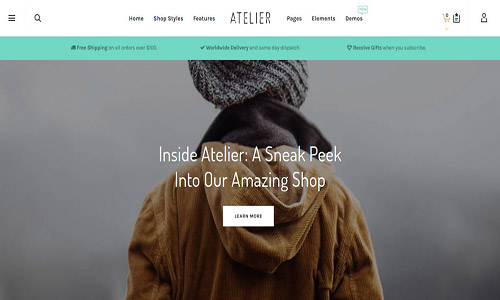 10. Gear WordPress Theme
It is sleek, minimalistic and simplified for marketing online. Designed as an e-commerce theme for WordPress, which WooCommerce plugin is fully integrated, the most popular WordPress plugin.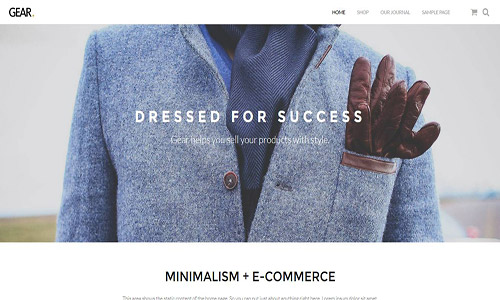 11. Gather WordPress Theme
A fully responsive ecommerce WordPress themes that is also minimalistic. With this, you can be able to market your products, present your work and maintain your contents – all these you can do in perfection and style. In addition, it is WooCommerce-ready and you can have a well-established online shop in no time.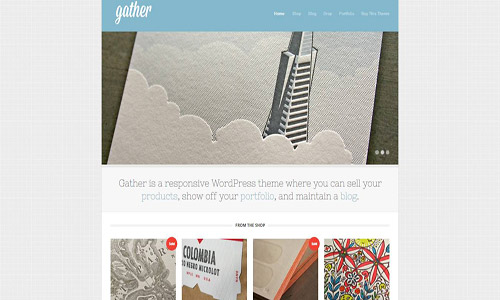 12. Immunity WordPress Theme
Purposive and responsive for niches like magazines and blogs as it has the perfect layout form, post formats widgets, ecommerce integaration, shortcodes and many other features. It is also perfect for video bloggers and news reporters. What is more, Immunity is optimized for advertising, SEO and speed, which only means income and money!

13. Expo WordPress Theme
Minimalistic, horizontal scrolling theme for WordPress which include a splash layout, customizer integration and a lot more! In addition, it has fully-responsive design which adapts to several screen sizes so your website will be perfect for iPhones, iPads and gadgets of all sorts. With this, you can sell photos and downloads in no time.

14. Maisha WordPress Theme
The theme is inspired by the "Virunga" documentary, Maisha is a charity premium theme for WordPress that is modern, beautiful, responsive and very mobile-friendly. So, Google will surely love it. Theme avails a range of exciting features including several blog layouts, color and header options, plus more! It is very easy to customize straight from its customizer. It also comes with a variety of templates as well as a support of popular plugins like WooCommerce, bbPress, BuddyPress, etc.

15. Venture WordPress Theme
A professional premium theme for WordPress, Venture is a perfect fit for business websites. It features a portfolio that showcase your work and photos in the most marketable way!


Back to list of all the best WordPress themes.