WordPress news theme allows you to create a nice news website easily. News theme allows you to pack lot of headlines and information on the home page. This captures the attention of readers and make them stay longer on your site. Most premium WordPress news theme also allows you to add thumbnails for each post so that it shows up on the home page. A good WordPress news theme show allow you to manage the categories easily so that you can expand your news site if needed.
1. Tribune WordPress Theme
This elegant news WordPress theme is suitable for any newspaper publisher. The white background makes the site look serious and the layout is designed to show lots of news in a single page.

2. News Pro WordPress Theme
Simple news WordPress theme with a professional look. Comes with widgets and support for videos and images. SEO optimized with Genesis framework to improve Google rankings. Great choice for a news site.

3. NewsTime WordPress Theme
An advanced wordpress premium theme designed for news sites. You will be able to fully customize the front page with the built in control panel. And the dynamic image gallery automatically generates thumbnails for use.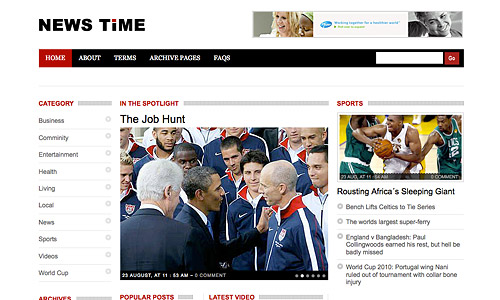 4. Linepress WordPress Theme
SEO optimized new wordpress themes with lots of customization options. You can even use the localization features to quickly modify to suit your needs.

5. Transcript WordPress Theme
Eye-catching news wp themes with built-in ad management. You will be able to change the look by using the control panel.

6. Advanced Newspaper WordPress Theme
Create an online e-newspaper in a matter of minutes. It comes with lots of features such as media gallery and fully controllable sliders.

7. Coverage WordPress Theme
This theme is for all those who has the passion to create an online news portal. With the elegant designs and attractive features of the theme, you are ensured to have a good-looking blog like no other. Your readers can simply discover and choose what news you like because all posts are organized on certain sections which you can enjoy. The theme options are totally new and integrated with an effective SEO system. Use Coverage and you will see how powerful your news portal will be.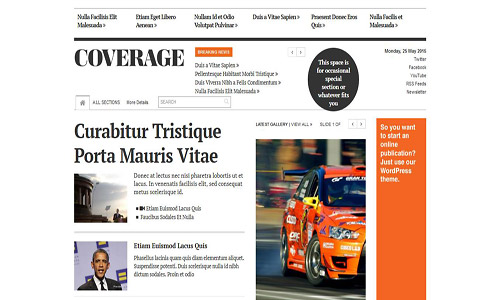 8. Reportage WordPress Theme
A clean and sophisticated news-style premium WordPress theme based on newspaper sites, writers, professional journalists' reports. Use this theme so you can have your own news portal in no time. This is possible because Reportage has integrated various newspaper elements so can manage all your posts in a single page. What is more, the layout combines impressive typography with stylish makeup that is captivating to any visitors.

9. Simple Reader WordPress Theme
SimpleReader's abundance of whitespace opens the infinite possibilities of customization. It's powered by our all-new theme options panel and integrated with a comprehensive SEO management system. Don't be shocked if your site jumps up several notches at Google.


Didn't find what you are looking for? Visit the list of best wordpress magazine themes to see other related themes that might work for you.
10. Blogging News WordPress Theme
Blogging News is a professional news website from WordPress that is quick and easy. It is specifically made for news sites and blogs that aims to present articles in a different way! What is more, it has an automatic thumnbail general for easier news management!

11. Stylebook WordPress Theme
Stylebook is a newspaper and magazine website that was made to be a feature-packed premium WordPress theme. The framework where it is based is guaranteed for its speed and efficiency. It is even responsive and worth your wait.

12. City Desk WordPress Theme
City Desk is a product of both design and development in pursuit of serving the website builders out there. It was envisioned that to make changes overtime. This is an all-in-one premium WordPress theme.

13. NewsPro WordPress Theme
Now you can create an impact with your visitors with the use of this WordPress theme. The entire theme is bright and obviously funky with 2-column on the homepage. It has a gallery page which you customize plus a post slider powered by jQuery for the site. What is more, Depth is available in 5 different color palettes.

14. The Style WordPress Theme
Do you want to share your content in a stylish way? TheStyle features a crisp, modern and unique visual effect you cannot find in any other blog. It is enhanced by jQuery so you can assure that you get the best display that your visitor will appreciate.

15. Daily Headlines WordPress Theme
This news-magazine WordPress theme with a very unique and flexible layout. Daily Headlines has a very clean and minimalist design with fully widgetized webpage as well as a unique custom templates.


Back to list of all the best WordPress themes.