WordPress portfolio themes help you promote your portfolio easily. Most portfolio themes comes with nice galleries and option to insert caption. Using WordPress you will be able to easily upload your portfolio photos and update the news easily. Below are some of the finest WordPress portfolio themes found.
1. Envision WordPress Theme
This is a very good portfolio WordPress theme to use for web studio or agencies. The top part can animate all your latest works. Below you can have services and solutions boxes. Also testimonials can be included on the homepage. It comes with multi color and slider options.

2. Organic Portfolio WordPress Theme
Big and bold design that is great for graphic design portfolio. This premium wp portfolio theme comes with lots with a large featured slideshow and graphical design.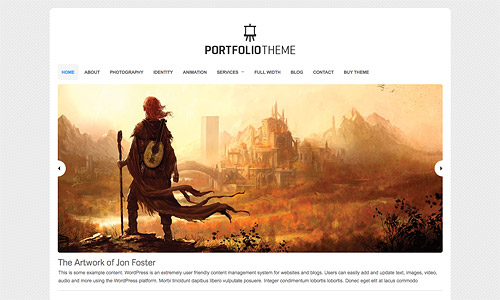 3. Webly WordPress Theme
A fun portfolio theme with multimedia slider on homepage. The theme comes with an attractive home page and a gallery in the inside pages.

4. Nova WordPress Theme
Clean and modern portfolio site. Comes with slideshows, shortcakes and recent works gallery.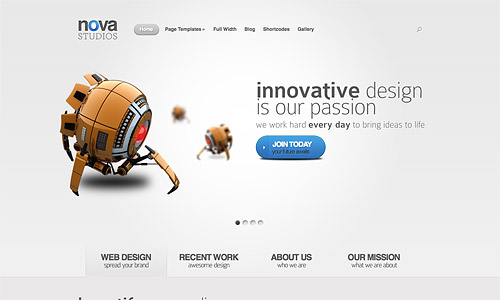 5. Lumin WordPress Theme
A sleek portfolio WordPress theme suitable for web agencies or personal portfolio. Theme allows you to have a page layout while separating blog posts and gallery sections. A very clever theme indeed.

6. Lensa WordPress Theme
A full screen portfolio theme made for those photo addicts and pros. There is even a slideshow effect on the background and has a function that can immersed your concept of the world. It is also mobile-friendly and very responsive on any device you have.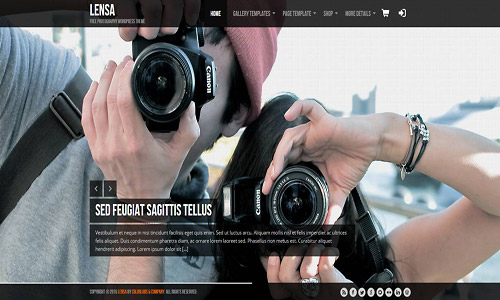 7. Charm WordPress Theme
The theme's latest version has been recently released; adding to a more modernistic portfolio premium WordPress theme. It has impressive detail for typographic and style. With this, you can show different photos as well as videos placed neatly in a grid. Charm is likewise fully customizable and can be scaled to fit.

8. Alice WordPress Theme
This portfolio premium theme is dedicated to creative persons out there. It has easy-to-click setup to create your portfolio to present your works with simple touch. It has also lots of shortcode options and useful features – the best business solution ever!

9. Huntington WordPress Theme
Huntington is a retina-ready and mobile-friendly theme with grid style layout. It also has a simple Visual Composer and an option panel for beautiful customization.

10. Responsive WordPress Theme
Responsive premium WordPress theme is the portfolio for those who are looking for something to showcase their work. The responsive design ensures you that every visitor will have the most exciting experience. It is also compatible with WooCommerce plugin, which is a necessary tool for online marketing.

11. Gridspace WordPress Theme
A responsive theme in a portfolio style for WordPress platform perfect for presenting image files of various size. Gridspace also support 7 formats for your posts, slideshows and include multipage page designs.

12. Exposure WordPress Theme
Exposure is customizable and very easy to use. With this, you are able to change backgrounds, colors and straight from the admin of WordPress in a matter of clicks.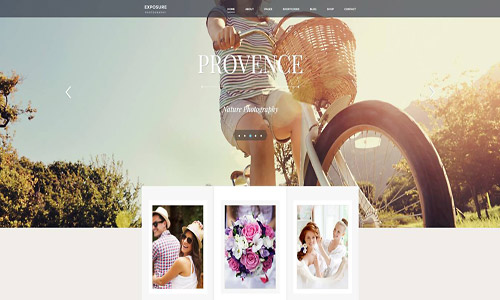 13. Sky WordPress Theme
Just like a beautiful horizon Sky maintains a majestic blue interface so your visitors will always feel refresh and surprise everytime they open your website. It is a unique WordPress theme that allows you to turn pages via a slider without compromising your website load speed. This is possible because Sky is using ajax.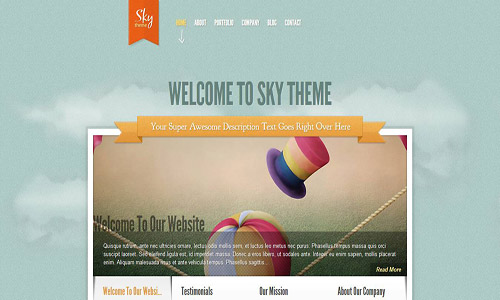 14. Gemiz WordPress Theme
A portfolio theme which make use of HTML 5 and jQuery among others. It has two versions to boot: the light and the dark with two style options for the homepage too. In addition, this WordPress theme has responsive media grid on the portfolio page which enables you to manipulate the layout as you please. Gamiz is simply perfect for your creative business in mind.

15. Quantum WordPress Theme
Quantum is a premium WordPress theme which combines modernity with functionality to help you have an impressive online portfolio. It features a lot of options, plugins and support so you will have anything in mind executed in no time.