WordPress real estate themes provide a fast solutions for owners looking for a cheap solution to sell property online. A good real estate should come with search and search options for location, property type, price, number of bedrooms etc!
Some even comes with multiple photos for each property and even comes integrated with Google maps. Depending on your needs, it will be easier to list the features you need first before looking for a suitable wordpress real estate themes.

1. iReal Estate WordPress Theme
This is a very professional wordpress real estate theme that is suitable for a property agent. It is easily customizable and comes with a blog. The blog is great for posting the latest property for sale or rent. Get this theme for a hassle free real estate website.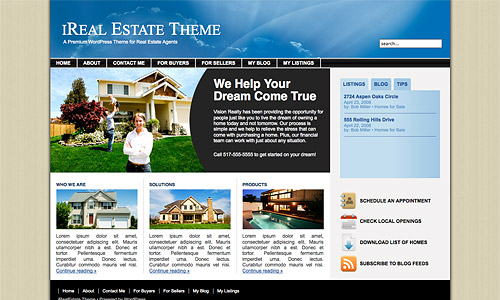 2. AgentPress WordPress Theme
AgentPress theme is great for personal real estate agents website. It can be used as a site to promote your properties. It includes multiple templates which you can choose from for your layout.

3. Residence Real Estate WordPress Theme
Nice gorgeous real estate theme with dynamic real estate framework that is easy to edit to customize for your needs. You can add additional languages to make it compatible with all markets. Comes with multi category and easy photo gallery management.

4. Real Agent WordPress Theme
Similar with the previous real estate wp themes. However, this theme is more suitable for personal real estate agent.

5.  Homeowner Real Estate WordPress Theme
This premium real estate WordPress theme is fully compatible with WordPress 3.0. It is integrated with Google maps and comes with 12 awesome different styles. Agent listing and bio is available and currency and metrics can be changed easily. Need to monetize the site? This theme comes with advertisement banner management to help you manage banner ads easily. Click to find out all the features packed inside.

6. Smooth WordPress Theme
Nice theme with google map integration and multi category search. You can add individual agents into the website and include the bio for the agents. Finance calculator and banner advertising are also available.

7. Real Estate WordPress Theme
Very powerful real estate website packed with lots of features. Users are able to submit properties and it comes with advanced multi search or search by property ID. Property agent can have their own listing page to post properties and more… See the website for detailed list of all the features available.

8. RealtorPress WordPress Theme
Easy to use RealtorPress offers your a cool solution to setup a real estate website website in no time. It comes with a nice search engine, google maps and recently added property.

9. ElegantEstate WordPress Theme
ElegantEstate makes every real estate blog and website the best. It allows you to browse your listings very easy, and makes special integration for property data, pictures, Google Maps, etc. Use this and you will increase your sales and online presence in no time!

10. Domestica
It is the Real Estate solution for those who wish to be number one in the industry. Although the theme is complex, it has unique features to boot for all real estate agencies out there.

11. Skyestate
Skyestate is rich in real estate features for a WordPress theme. It is very flexible and user-friendly plus responsive too. It is also advantageous for agency, independent Real Estate agents or simply a personal Real estate blog or website who dreams to make it big in the industry.


[themeforest_coupon]
12. Casamia
A truly flexible WordPress theme for your real estate ventures. It features topnotch options to display properties and connecting with prospect buyers.


[mojotheme_coupon]
13. Open House
Open House offers incredible features to make your real estate listings, photos, etc. very much easy. It can be used for personal or multiple agent site.

14. Main Street
Main Street is a dynamic framework for your real estate management for easy and competitive Real Estate endeavors. It makes this theme very easy to personalize for your needs.

15. WP Pro Real Estate 2 WordPress Theme
A powerful real estate theme that comes with advanced listing search and wordpress 3.0 menu. You can have unlimited images per listing and unlimited colors. See demo video for a quick walkthrough of all the features.

Back to list of all the best WordPress themes.