WordPress restaurant themes are perfect for restaurants. Whether you are looking for a theme for restaurant, bars, cafes and coffee shops. WordPress provides an easy solution to update your menu and food pictures with the easy to use Content Management System.
If you are a business owner, it is important to have a website for your restaurant. Having a website helps people find your restaurant on Google easily and brings in more sales.
The fastest way to do this is to get a premium WordPress theme that suit your business image and install it. The whole process of installing WordPress and the WordPress theme takes less than a day.
1. Foodilicious WordPress Theme
A nice and cosy WordPress theme suitable for cafes, pizzas or pastas restaurants. You can easily list all your menu and separate them with different categories. Each menu item has its details page where user can comment. It also comes with a blog so that you can engage readers and inform them of any promotions.

2. Organic Restaurant Theme
A simple restaurant WordPress theme designed for cafes and restaurants. An excellent choice for restaurants in the food business. Comes with 3 color variations to choose from.

3. Restaurant WordPress Theme
Very nice restaurant theme with earth tones. Might be suitable for Italian restaurant selling pastas and pizzas. Comes with auto-resizing thumbnails and more…

4. My Cuisine WordPress Theme
Very elegant restaurant WordPress theme that comes with large and beautiful images. Comes with menu and blog, as well as shortcakes.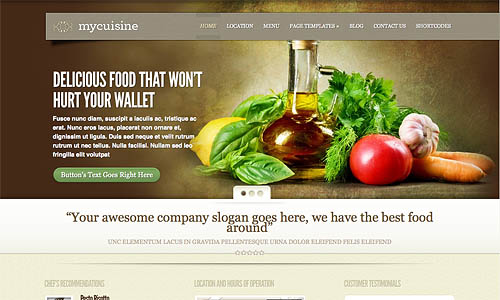 5. Bottega WordPress Theme
Bottega is a nice attractive cafe theme suited for a small restaurant or cafe. It allows complete control over content and you can display your menu in an attractive way. You can also add specials, operating hours and map.

6. The Restaurant WordPress Theme
Simple restaurant theme that comes with unlimited color options. You can create your own menu cards for your food menu and comes with a nice slick slideshow effect.

7. The Flavour WordPress Theme
Having some thoughts of keeping your world to move forward? This theme is absolutely for those who wish to upgrade their modern restaurant business to an all-new level. To start with, there is the HTML 5 animated slider, a retina-ready and responsive feature too! You might as well want to check the admin interface as well.

8. Restaurant WordPress Theme
Imagine your food right before you (in a virtual sense, that is). Aside from its elegant designs, the theme has a custom-page and template for food displays and drink menus, which makes it simple to make the perfect menu page. The portfolio template include the theme can be used to filter recipe displays.

9. Indulgence WordPress Theme
This theme is packed with useful features which combine great choice for those site builders out there. Some of the impressive features of this theme include the menu post type, the gallery which comes with pop-up effect, headline slider, page template and Foursquare configuration.

10. Seasons WordPress Theme
Seasons WordPress theme is an elegant layout which features a perfect image of restaurants, cafes, bars and other sorts of enterprises related to the food industry. With this theme, you can take advantage of the ZOOM framework, food menu template, gravity forms for styling, unique slideshow, custom styling and heading, and responsive layout.

11. Petit WordPress Theme
A premium restaurant theme filled with features that can be used for a range of purpose, especially if you want to show the secret formula to a sumptuous meal. On top of that, there is a huge space for the homepage plus more area to show your photos!

12. Cafe Elements WordPress Theme
The theme is the right choice for cofee shops and restaurants as well as those who are looking for a unique website that is manageable and easy to deal with. It has a Theme Customizer which allows you to simply drag-and-drop anything on the homepage. Cafe Elements make you manage the content and menus in a breeze. You can make configuration with your business' content, colors and location through their range of available options.

13. Altura WordPress Theme
Why Altura? It has a responsive layout, image slideshow and gallery, theme options and reservation form. What is more is that it offers free installation when you contact the developer by mail.

14. Glaze WordPress Theme
This premium WordPress theme is very responsible and 100% customizable for restos, bars, cafes, etc. From the looks, Glaze is elegant and has accessible admin panel, where you choose whatever color or text to use. There are shortcode plugins so you can organize your menu, social links, and staff, etc.

15. Adriana WordPress Theme
A simple and responsive theme for restaurants, bakeries, cafes, etc. The template is clean yet sophisticated with complete theme for aspiring chefs out there. It is easy to use because it is totally responsive and is based with HTML 5. There are even advanced sections available plus effects as well SEO features to choose from.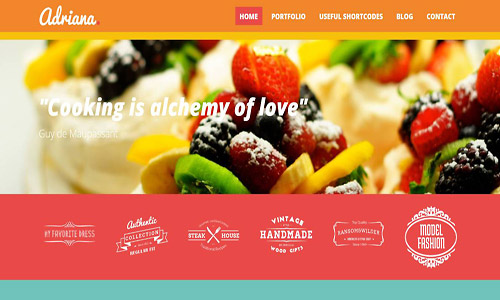 Back to list of all the best WordPress themes.