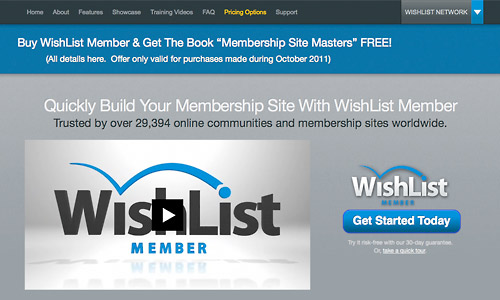 WishList Member is one of the most popular membership plugin for wordpress. It is very easy to setup and it allows you to create a full featured membership site in minutes. You can create different membership levels for different levels of access of your wordpress site. Content can be easily hidden with the "Hide" button for different membership levels. The shopping cart integration makes it easy for members to pay with PayPal, clickbank and more. A membership plugin couldn't be without member management. WishList member management lets you upgrade, check registration status and move levels easily. WishList Member is a highly recommended membership plugin for anyone as it is the easiest to setup compared with other membership plugins.
WishList Member Coupon for June 2023
Wishlist Member Promotion Activated!
Click here to activate 4 Bonuses: 2 Custom membership themes, free webinar, 300+ membership icons, Top 5 membership molds audio.
Key Features of Wishlist Member
Unlimited membership levels
Shopping Cart Integration (Paypal and others)
Multi level access
Partial Content Display
Login redirection
Newsletter sending
File protection
Multi Level Access
One of the most important feature of a membership site is to have multi level access so that you can setup different type of membership like bronze, silver or gold membership. You can then charge different prices for different levels for your membership site. So for example if a user with bronze membership wants to view gold membership content, he will have to upgrade the membership.
Partial Content Display
Wishlist Member makes partial content display a breeze. You can setup so that users only view part of your article. This is a good way to entice the users and make that signup. By using partial content display, you can increase your conversion rates.
Newsletter Sending
Newsletter sending feature is a feature for membership plugins. With newsletter feature, you can send out promos, affiliate products, sales, discounts to your readers without paying for expensive fees by using third party mail responders. Newsletter not only engages your members, it also bring in new leads for your online business.
Auto Membership Creation
What I really like about Wishlist Member is that it makes it so easy to use as everything is automated. Once you have setup your payment gateway such as using PayPal or 2Checkout, paying is a breeze for users. The membership username and password will automatically be created and the user can login immediately after payment. There is no need to waste time to manually approve and activate new accounts! A real time saver!
File Protection
Protecting your files is very important for membership sites. You don't want non-members to download your paid content without paying a dime. With file protection, you can be assured that your files are safe and not leeched by users.
How to Use Wishlist Member Coupon for Discounts?
Click the link above to reveal this month Wishlist Member coupon and promotions for Wishlist member. Buy Wishlist today and save more with Wishlist Member coupon code. Make sure to enter the correct code before closing your shopping deals. It's as easy as Unzip, Upload and Activate. That's it; you can now enjoy your new Wishlist Member plugin.
More money saving awaits you when you visit wishlistproducts.com.