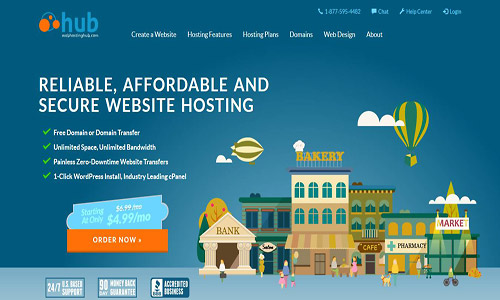 Web Hosting Hub offers high quality hosting services so it can help people place their websites on the web. They provide hosting plans that reliable, affordable and scalable. They have a hosting plan that fits every web hosting needs from ecommerce to personalize websites.
What is Web Hosting Hub?
In pursuit of its motto: reliability around the clock, Web Hosting Hub delivers 24/7 support to its clients. It is a private company that takes pride of its web hosting services since 2004. For over 9 years in the business, the Montreal-based company has achieved so greatly that it has a long range of packages and plans that fits every client needs as well as their ever-changing preferences. With this, you will have the essential things that will equip your blog and website for the great heights. It is even advantageous for those who intend to showcase AV streaming and those look for reseller platform, dedicated servers or VPS. On top of that, the company prioritizes customer satisfaction by providing solutions at reasonable and competitive costs.
You will find all the things you need for your website. There is a variety of solutions and each comes with a range of packages and plans. For one, the shared hosting is a sought-after solution for small hosting sites, reseller plans and VPS are likewise available so you can have whatever that suits you.
Features of Web Hosting Hub
To start with, Web Hosting Hub entitles the user to SE submissions that help in increasing website ranking among search engines. It is likewise equipped with a billing manager, free setup, Fantastico Deluxe, web builder, free web developing templates, 99% uptime, regular backup, credits from Google AdWords, cPAnel, WordPress and Joomla applications, shopping carts, multiple language panel, scripts for ecommerce, merchant account, PHP, MySQL, MS Front Page and a lot more features for you to have the best-looking website to your satisfaction.
Highly-Advanced Control Panel
Web Hosting Hub's control panel is powered by cPanel, the best and the most advanced in the industry. It is easy to use and important for your website. When you use this, you need choose at least one website builder for your website. You can have RvSiteBuilder and Parallels Sitebuilder so you can build your site without any fuss of hiring an expert web designer. There are over 600 customizable templates to allow you to change color schemes, image styles, photo album, etc.
Script installers for Apps
Web developing entails the use of script installers like Fantastico Deluxe and Softaculous. These are leading script installers you need so you can install different scripts and applications without needing to learn any programming language. With this, there are 194 scripts including content management, shopping cart, blogs, photo sharing, wikis and more.
Reliable and Trusted
Web Hosting Hub secures website along with the files and data stored there as it offer daily backup. A bonus is the 99.9% uptime so you can always stay up without distressing for downtime. No worries as well in losing your money because you can your money back in 45 days. The 45-day interval is a trial period for you to check out the services they are offering to you. In the event that you are not satisfied, you will be given a refund without justifying it.
Customer Support Channels
The company has thought of many ways to provide you with the best customer service; to give answers to every question and solve every problem. There are even demos, videos and other paperwork on how tos about the hosting panels. Contacting the customer support team can be done in the following manner: ticket, chat, phone, fax and email. Knowledge base is also available so you can satisfy your question.
Competitive Price
All the hosting plans and service packages are offered at competitive and affordable prices. Of course, prices vary according to the package ordered and the user's budget. Shared hosting is at $2.99, reseller's and VPS at $3.99, and dedicated servers at $149 monthly.